How to Open Your Heart to Positive Change and Creative Inspiration ~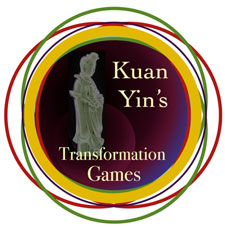 Kuan Yin has been helping us through these I Ching Readings to transition from the old economic paradigm based on greed and fear to a new paradigm of co-operation and sustainable prosperity. Today, her advice about opening your heart comes from the I Ching, an ancient book of divination that follows the flow of the cosmos. Because of that, her advice and instruction comes from a different perspective than ours.
To help you better connect with her assistance, she uses the Intuitive Learning Circles ™ to communicate with you through meditation, affirmations and visualization.
Mind Body Integration
For best results playing a Transformation Game, look at each Circle both crossed over the midline of the body and uncrossed so that the correction is more complete.
Kuan Yin's I Ching Readings and Transformation Games can help you to identify problems, change your focus to positive solutions, ground yourself and get in the present. Simply relax and gaze at the Circles while contemplating Kuan Yins words. Your intuition will come forward and give you the help that you seek.
---
Welcome to the I Ching Reading and Transformation Game for:
Hexagram # 59 – Reuniting
How can you open your heart to creative, new ideas when the heart of humanity seems to have shut down?
When we are in the midst of danger, what can be done to reunify us with our "better angels?"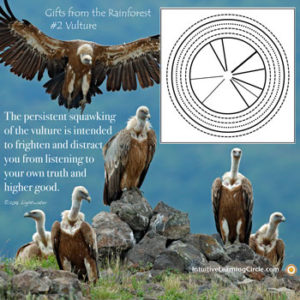 The first thing to consider is what direction are you, personally, heading?
Are you going for revenge and retribution?
Are you immersed in self-pity or becoming cynical?
Are you in danger of shutting down entirely?

Or, are you willing to look beyond your desire for immediate gratification and open your heart to a more inspiring and far-reaching goal?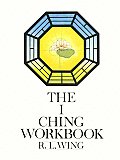 If you are an artist or looking to create positive change, hexagram #59 REUNITING from The Book of Change has excellent advice:
"Look for the symbols, rhythms, and patterns that have inspired humanity for all times, and incorporate them into your work. Make a sincere attempt to meet the social responsibility of the artist: REUNITING people with their reality." ~ The I Ching Workbook, R.L. Wing
What is Needed to Open Your Heart and Reunite?
Regain Your Connection with Courage
In order to reunite, it's essential to connect with and maintain our courage. You can use this Intuitive Learning Circle™ that represents the energy and natural medicine of the Jaguar. Simply gaze at the circle with a soft focus for a minute or two with these positive affirmations: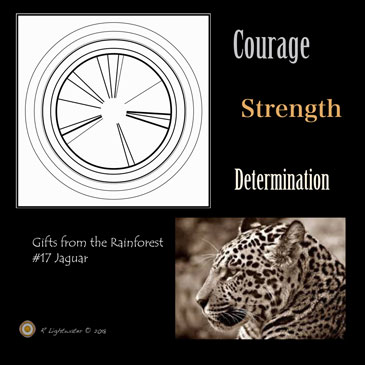 "I consciously activate my courage, strength & determination."
"I have the courage to change in a positive way."
"I have the strength and determination to follow through on what's best for me and my community."
"Working toward common goals will greatly benefit your inner strength; there is no regret in such selflessness." ~ Line 3 from hexagram #59 REUNITING


Once courage has been reclaimed, we instinctively know our hearts are at the very center of our being. Somehow, it connects us with nature and a greater truth – some kind of communication with the rest of the cosmos.
Yet, if our hearts are closed or shut down, we have trouble getting those messages from our inner selves. We doubt and second-guess our hopes for joy, balance and freedom. Or, we might try to force our way through with hostility, vengeance or rage. We may even give up on ourselves and give in to apathy.
In times like these, we must look within ourselves for answers:
"I look within for an "inspiring idea" that could REUNIFY and empower the situations I'm dealing with."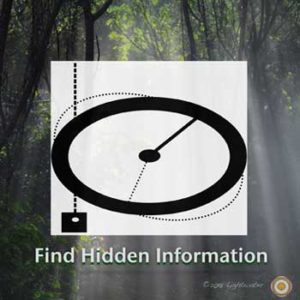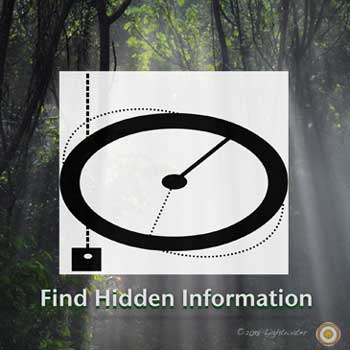 Open Your Solar Plexus Chakra
Gaze softly at the center of this circle and become aware of your solar plexus – the soft area of your stomach where your ribs go up in the front. This is where your Third Chakra is located, which is a very important energy center when it comes to health and well-being. If the Third Chakra closes down, disconnects or gets clogged up, the energy for manifesting and healing is seriously impaired. Use this affirmation:
"My Third Chakra is connected, balanced and open."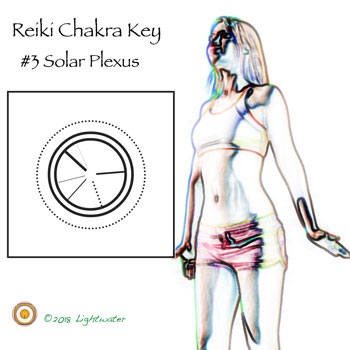 Open Your Heart Chakra
Spend a few minutes now to gaze softly at the Reiki Chakra Key below to open your Heart Chakra. Allow it to relax and expand. You can even imagine a warm energy radiating out of the center of your chest and as that light radiates out, you find that all kinds of sorrow and heaviness is easily released to the Sun. Letting go – recycling into new life and inspiration.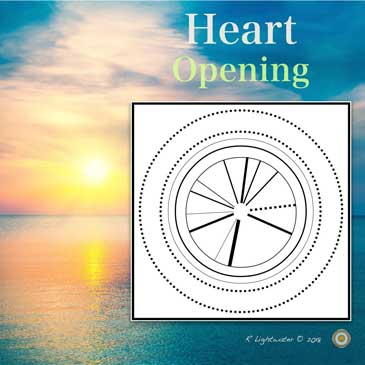 You might even want to imagine that you can create a channel from your heart to the Sun. A channel where you can freely and easily release any toxicity you may have to the Sun. And in return, the positive life-force of the Sun gently cleanses, replenishes and restores you.
This channel you've created is here to REUNIFY you with your connection to the cosmos. It empowers you and fills you with the colors and vibrations of life that you need at this time.

Connect with Grace
Something else that's needed is patience, a virtue that connects us with the grace and equanimity of the Soul.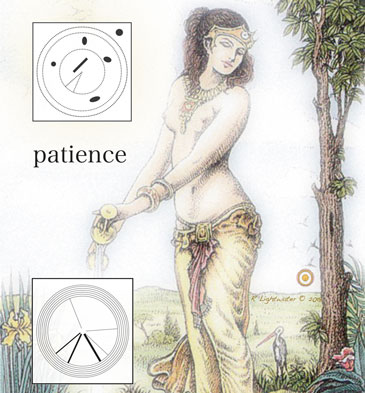 "Within the Self, the time of REUNITING is directly connected to your spiritual development. You should now renew your inner faith, in whatever way that has meaning for you." ~ The I Ching Workbook, R.L. Wing
Sense The Beauty Around You
Use this Circle to help you remember a time when you were in a beautiful, calm place. Remember the "awe" you felt at that time. Once you find it, relax and bring the sense of the experience back into your memory. Adjust the volume of your senses. Take all the time you need.
"I bring my senses into balance."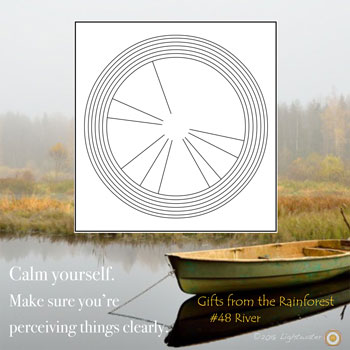 "I remember what it feels like to feel beauty."

Now that you have accessed beauty, you have the necessary ingredients to get to the truth of the matter. This would be a good time to ask yourself a few questions: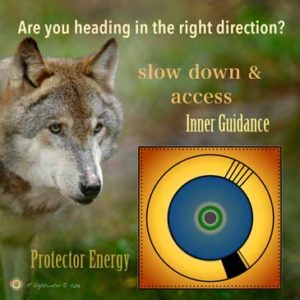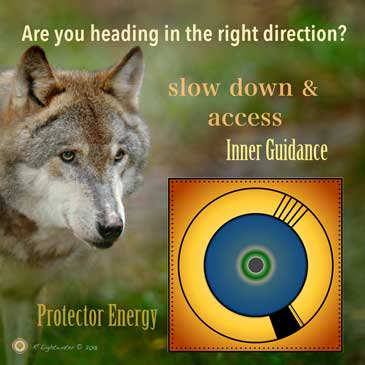 "Am I heading in the right direction for positive change?"
"Am I investing in something that's harmful to me?"
"Is there someone or something I shouldn't trust?" 
"Am I ignoring an important relationship that needs help?"
"Am I willing to let an inspiring idea come in to help me?"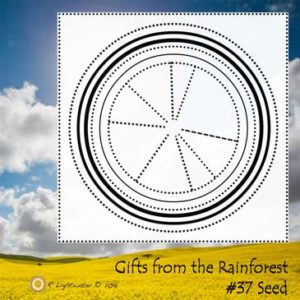 Plant the seeds in your heart for inspiration, natural solutions and true assistance.
Include the seeds for joy, freedom, balance and sustainable prosperity. Don't forget practical things like common sense and focus. How about a roof over your head and healthy food on your table? Affordable, effective healthcare?
What other seeds do you need to plant? Make sure you keep planting them until you feel completely complete!

Now it's time to close the door on all those old misuses of your time, attention and energies.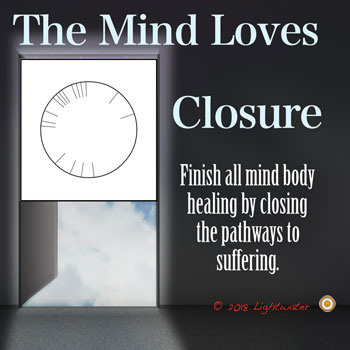 "I close the door on any drain or strain on my time, space, attention or energy."
Congratulations! You've just set the stage for a key inspiration that has the potential to REUNIFY you and your community. Be sure to take time to rest and relax. Take a walk or get out into nature if you can!
For More Help Navigating the Flow – Check Out Todays Intuitive Reading >
---

Rheanni Lightwater CHT, CKT lives and practices in Santa Fe, NM. She specializes in mind body healing with family and relationship clearing using Kinesiology, the Intuitive Learning Circles™, Reiki as a Master/Teacher, Hypnotherapy and Shamanic Clearing Techniques.
Schedule with Rheanni via Zoom, Skype or in person when you visit Santa Fe, New Mexico. Call her at (505) 271-4612 between 10:00am – 5:00pm, MST, Monday through Friday to schedule.
---
Disclaimer:
This game should not be considered as an exclusive method of treatment. The appropriate medical or psychotherapeutic authorities should be consulted for the diagnosis and treatment of any medical or psychological condition. The information and practices described on this website are best considered as an adjunct to orthodox medical or psychological treatments.